MpaBoa Sneaker Gala
7 — 11 @ 6:00 PM

-

10:00 PM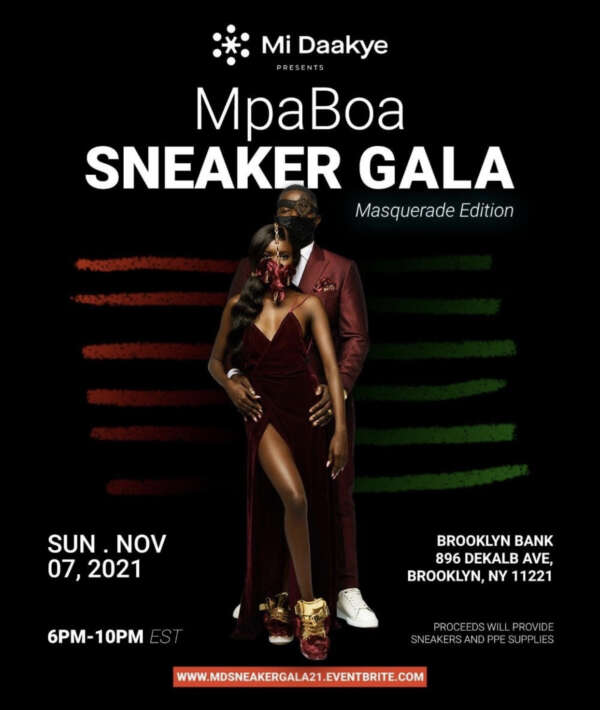 "I am because we are." An exclusive invite to our annual marquee charitable event of the year.
About this event
The second annual MpaBoa Sneaker Gala is a celebration of authenticity, contribution, and community hosted at the Brooklyn Bank. This formal affair is dedicated to Mi Daakye's mission to turn inclusivity and expression into action and benefit. The funds raised from this gala will be dedicated to students of the Amanfro School District in the Greater Accra Region of Ghana.
The Gala will begin promptly @ 6:00PM EST. Guests, dressed in formal evening wear with their freshest sneakers and fashionable face masks, will be checked in accordance with NYC COVID protocols.
Following checking in, you can interact with our red carpet experience which includes being photographed by Mike Uko (and his team), but enjoy the musical stylings of a live band.
Upon arrival, you'll have the opportunity to participate in the Silent Auction by placing a bid on any of the pieces in the collection, "Time to Play". Curated by Yvena Despagne, "Time to Play" features work by Ainsley Burrows, Quiana Parks, Pstudios, Citizins, and many more centered around the significance of play in the development of children.
For the rest of the night, enjoy catered hors d'oeuvres from Chef Ahmed Abdallah of Accra Restaurant and dance to the music of G Flamee and Premium Vibez Entertainment's DJ Strikah and DJ Shy Guy. We'll also identify the silent auction winners, acknowledge the support of Mi Daakye's donors, and announce the first annual Mi Daakye Superhero Award Recipient.
Strict Dress Code: Formal with your freshest sneakers and face mask.